Is App Based Banking the Future of Business?: A Starling Bank Interview
29th March
What makes app-based bank Starling different to major high street names? Is this the future of banking?
As part of our journey to B Corp certification, we have looked at every aspect of our business. One thing this really highlighted was our banking, and we decided it was time for a change. Like most people starting out in business, we went with one of the larger high street banks to begin with and it hadn't really occurred to us that there was another option. We began looking for a more transparent, ethical alternative and went through a rigorous process of evaluating and scoring a short list of five banks. We looked at things like governance and ethics but also accessibility and ease of use for each bank – and we agreed that Starling Bank was the right choice for us.
Earlier this week, our Business Leader Ryan caught up with Alexandra Frean, Head of Corporate Affairs at Starling Bank to discuss why Starling Bank is the future of business banking, and why their offering is truly unique.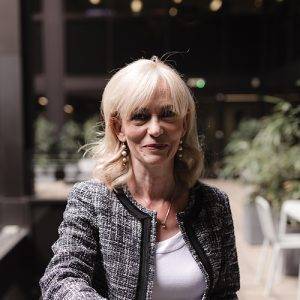 Ryan O'Keefe: Your Vision Statement is A better bank for everyone; what is it about Starling that makes it a better bank for everyone?
Alexandra Frean: We built our bank to serve the needs of our customers. Traditional banks lost sight of their customers, becoming beholden to their stakeholders and shareholders instead. The interests of customers got lost and there was also a certain amount of complacency because there was no real competition. We started Starling from scratch, with a clean slate, and this enabled us to put these things right.
Traditionally, banking has competed on fees, rather than features. But Starling changed all that by introducing lots of smart money management features – such as the ability to set up savings goals in the app and ring-fence that money, real-time updates on your balance, instant spending notifications and the ability to freeze your card if you lose it. These features are designed on customer needs because we're building a bank that serves its customers first, rather than external stakeholders.
RO: Why do you think businesses like ours are making the move to more ethical banks?
AF: Because they can! This has never been an option before. People are in business to do good these days, not just to make money.
The roots of this are in the 1980s, when corporate social responsibility became more of a marketing tool; people didn't really stop to look at the underlying meaning, ie doing business for good. Corporate social responsibility got sidetracked and a lot of companies, including banks, lost sight of what it was for. Because we built Starling from scratch, we were able to build CSR into everything we do – rather than have it as an add-on.
RO: Do you see Starling as an "ethical bank"?
AF: We don't use "ethical" as a marketing tool but good business ethics and good business go hand in hand. It's part of our DNA rather than virtual signalling.
RO: Can you tell us more about your campaign, #MakeMoneyEqual and why you thought it necessary?
AF: We started this last year, around International Women's Day. We have a female founder, which is unusual in both banking and tech. Gender is very important to Anne (Boden, CEO of Starling) and to everyone who works here.
The campaign is about both personal and business finances; to remove some of the stress of money management and to help people to feel more in control.
Nobody has added all of these features to an app before; in the palm of your hand, you have access not only to your bank account but to the Market Place which allows API integrations with numerous different companies. This means you can see all of your financial information in one place, including lending, accounting, insurance, and pensions.
Not many people talk openly about money; we'll talk about other things, even quite personal ones; but not how much we get paid or what's in the bank. Talking about money will help us all to be better at managing it. We want to encourage people to talk about money more; to ask for pay rises and to be more open.
Starling commissioned a linguistic study looking into how the media talks to men and women about money. The data showed that women are often portrayed either as "scrimping and saving" or as irresponsible splurgers. Men, on the other hand, are portrayed as the sensible, sophisticated investors – but Starling believes none of these stereotypes is actually true. Look at what is being shaped with this language; people do not, on the whole, have a good relationship with money. Let's be more truthful and positive about money. Our campaign is about getting a conversation going about money; to help people to be more comfortable with money. It's an ongoing campaign and moving forward we want this to include other areas where equality can be lacking such as mental health, age, and race; all of these can have a financial impact and if we talk about them, we can all be more aware.
RO: You've lots of fascinating content on your website; tell us more about your Business Talks and the direction your content has taken since.
AF: The idea with Business Talks was to help people at the very start of their business journey; start-ups are the new world of business, and new entrepreneurs have a lot of questions. People want to know: How do I do social media? How do I network? And a whole host of other questions. We began by trying to demystify different areas of business. Since then we have moved on to creating a blog with regular how-to articles on everything from tax regulations to the pros and cons of shared workspaces. We also share stories and interviews around a similar theme, aiming to tell stories, to inspire, to support and to inform.
We are looking forward to a long business banking relationship with Starling, and to seeing the banking landscape change for the better.
Join the conversation: connect with Ryan on LinkedIn